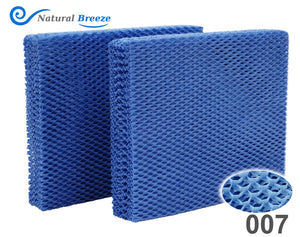 2-PK Vornado MD1-0034, MD1-0001, MD1-0002, MD1-1002 Reusable Humidifier Filter
$ 34.99

$ 34.99

Save

$ 5.00
---
---
SKU: NB-007
Did you know that the cost of all disposable filters is much more than that of the humidifier itself over its lifespan?

If you are tired of changing so many humidifier filters every season and wish you could get one that can be washed, cleaned and reused over and over again, you have found the right product!
This humidifier filter is made of Dura-ester, not paper anymore. Dura-ester is a durable synthetic polymer that is more resistant to mineral deposit and buildup, as well as maintains its shape longer without collapsing.
When it gets dirty it can be regenerated simply by washing with cold water and soap. Depending on the hardness of the water used in the humidifier and other factors (for example, temperature, use of water treatment chemicals, etc.), this filter can last five to twelve times longer than conventional disposable ones. It will pay for itself in no time! 
Replaces: Vornado MD1-0001, MD1-0002, MD1-1002, MD1-0034  Humidifier Wick Filters.
Works with Vornado Evaporative humidifiers, including model numbers 221, 232, 421, 432, HU1-0021, Evap3, Evap1, Model 30, Model 50,

EV100, EV200, EVDC300, EVDC500, Evap2, and Evap40
Dimensions:

approximately 9 1/2" x 7 1/2" x 1 1/4".
If you need help finding a Natural Breeze replacement filter wick for your humidifier, please contact us. 
Disclaimer: This is a Natural-Breeze replacement filter, not an OEM filter. Please check your manufacturer's warranty with regards to the use of non-OEM parts. All mentions of brand names or model descriptions are made strictly to illustrate compatibility.