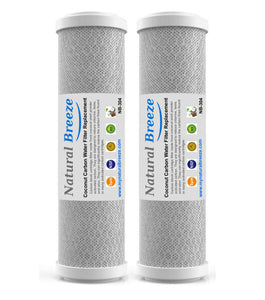 10" x 2.5" 5 Micron Countertop & Under Sink Water Filter Cartridge - 2 Pack (NB304)
SKU: NB-304-2Pk
Pack of TWO (2) Premium Coconut Carbon Water Filter Cartridges for Countertop and Under Sink water filtration systems

Replacement of Filter is recommended every 6 months for optimal results.

Product Specifications :
-Designed to remove chlorine, organic chemicals, bad taste, odor, dirt and sediment.
-Brand New Individually Sealed
-Standard size 10" x 2.5"
-Particle retention size of about 5 micron
-15,000 gallon capacity
-Improves drinking water quality
-Lifetime: 6 months
Compatible Replacement Filters:

The Filter is compatible with GE FXUTC, GN1S15, GN1S15CBL, GN1S20C, GX1S01C, GX1S04C, GX1S15, GX1S15C, PS220413.

Ace Hardware 84608, Apex IR-40, Cornelius COR10B1, Cornelius COR10B5, Dupont DWC30001, PFC8002, WFDWC30001, WFPFC8002, WFPFC9001, 46942, EcoLab 9320-1002, Everpure CG5-10, DEV9108-15, Flotec TO1, GE FX12P, FXWTC, GXWH20F, NuCalgon 4711-87, OmniFilter TO-1, TO1, TO1-D, TO1-DS, TO1-S, C1, TO1-SS, TO1-SS24-01, TO1-SS24-02, TO1-SS24-05, TO1D, TO1DS, TO1S, TO1SS, OptiPure CTO-10, OptiPure W-5, Pentair DEV9108-15, Pentek 155531-03, 155531-43, C1, CEP-10E, EP-10, PureMark PFS10B1, PFS10B5, Shurflo 15-056-10, True Value 583-377, Watts F109009, Whirlpool WHEF-WHWC, WHKF-WHWC, RF-1010, etc.

All of our filters are stored in a TEMPERATURE CONTROLLED SMOKE-FREE ENVIRONMENT.

If you are not satisfied with the filter, return it within 30 days for a refund of the purchase price, no question asked!
Disclaimer: This is a Natural-Breeze replacement filter, not an OEM filter. Please check your manufacturer's warranty with regard to the use of non-OEM parts. All mentions of brand names or model descriptions are made strictly to illustrate compatibility.