News
Posted by Wei Wang on
ATTENTION THANKSGIVING HOLIDAY UPDATE: We are not actively shipping out this Thursday and Friday (11/25 & 11/26). If you purchase items after 1:00PM PST on 11/24, your items will ship out on 11/29. Happy Holidays!
Posted by Juliette Miller on

Common First Time Filter Mistakes
Are you a first time Natural-Breeze Customer? Are you unsure if these filters will work for you? Did you just purchase our filter but have questions on whether you are using it correctly? Check out this new blog post to see the most common first time Natural-Breeze customers mistakes.
Posted by Crystal Wang on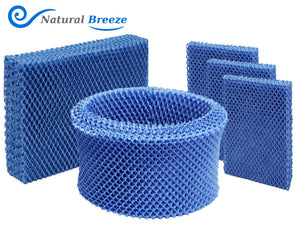 Why use a Humidifier?Humidifiers are designed to put humidity back into the air, but what does that mean? Humidifiers release water vapor into an area to increase the level of humidity in a room. When used properly, a humidifier can help to alleviate medical issues that may arise during the colder weather months. This may include dry skin, chapped lips, nose bleeds, allergies, etc.  Are humidifiers bad?The pros definitely outweigh the cons on humidifiers! They typically do more good then bad, as long as you are properly cleaning them and keeping up with their maintenance. If you do not properly clean...
Posted by Crystal Wang on
Humidifier season is back in full swing! With orders coming in rapidly we would like to announce that for a limited time we will be offering FREE SHIPPING on all orders! Do not only take advantage of the FREE SHIPPING, but also take advantage of your 20% OFF savings, as all of our filters are currently on sale! This is a limited time offer so take full advantage, before it's too late! *Please note shipping is only free in the lower 48 United States. Additional shipping may be applied for other states and countries. Shipping will automatically be applied at...