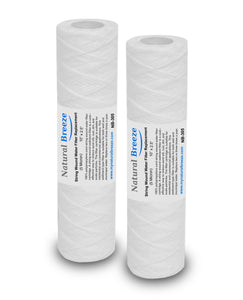 10" x 2.5" 5 Micron High Purity String Wound Sediment Filter Cartridge for Whole House RO System- 2 Pack (NB305)
SKU: NB-305-2Pk.
Pack of TWO (2) High Purity 5 Micron 10"x 2.5" String Wound Sediment Water Filter Cartridges - NB 305

Polyethylene fiber wound around a Polypropylene Core center, our Filter of NMR 5 Micron is tough in filtering out undissolved particles in well water and municipal water source with minimal pressure difference and change of flow.
Use this NB305 String Wound Filter as the Main Pre-Filter in your whole house water system to remove sediment, sand, silt, dirt and rust that could corrode Water Appliances and Filters inside your house.
Replacement of filter is recommended every 3 to 6 months for optimal results.
We also recommend our under-sink/countertop Replacement Filter NB304 for filtering chlorine taste and odor in your daily drinking water.
Product Specifications :
- Fits most Universal Standard size 10" x 2.5" Residential Reverse Osmosis Water  system with Well Water or Municipal Water sources. Quantity : 2 Pack
-Material Quality : Strings made of Polyethylene Microfiber with gradient pore structure to filter out floating and Undissolved particles of all sizes including sand and rust. Deep Filtration Quality with Polypropylene Core.

-Performance :  Removes particles in water measuring NMR 5 Micron.  The String is wound tight in an effective Honeycomb structure to hold dirt sediment with depth filtration capability. Filtering capacity is up to 20,000 gallons with small pressure difference and large flow rate. For optimal results, we recommend change of filters every 3 to 6 months.
-Compatibility : Fits any standard 10" x 2.5" Reverse Osmosis Filtration systems and    cold water filter housings of DuPont WFPF38001C, WFPF13003B, EcoPure EPW2, Culligan WTR, HF-150A, HF-150, HF-160, HF-360, HF-360A, HF-365, 3M Aqua-Pure AP11T, AP101T, AP1610SS, SST1HA, SS4 EPE-316L, SS8 EPE-316L, SS12 EPE-316L, SS20 EPE-316L, SS24 EPE-316L, SS36 EPE-316L, Global Water RO-505, RO5DX, AP WC34-PR, Geekpure RO5-FH10, HF3-10CLBK34, iSpring RCC7AK.
-All of our filters are stored in a TEMPERATURE CONTROLLED SMOKE-FREE ENVIRONMENT.

If you are not satisfied with the filter, return it within 30 days for a refund of the purchase price, no question asked!
Disclaimer: This is a Natural-Breeze replacement filter, not an OEM filter. Please check your manufacturer's warranty with regard to the use of non-OEM parts. All mentions of brand names or model descriptions are made strictly to illustrate compatibility.