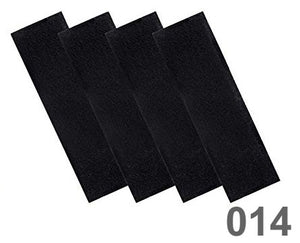 4 Carbon Pre-Filter for GermGuardian AC4800 HEPA Filter B
SKU: NB-014
Did you know that a Carbon Pre-Filter is designed to ensure that your air purification system is efficient and cost-effective? A Pre-Filter will not only extend the life of your HEPA filter, but it also helps to remove common household odors.
Quantity: 4
Dimensions: approximately 4.8" x 15.75" x 0.02"
Replacement Frequency: Every 2-3 Months
Compare to Part: GermGuardian Air Purifier Models AC4800 series AC4300BPTCA, AC4900CA, AC4825, AC4850PT, PureGuardian Model AP2200CA, Black & Decker BXAP149.
** This product does not ship to Canada. Sorry for any inconvenience.