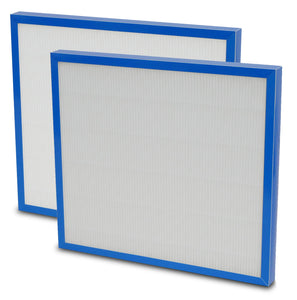 Replacement TRUE HEPA Filter Compatible with HoMedics HEPA filter AF-20FL for HoMedics TRUE HEPA Air Cleaner AP -25 (2 Pack)
SKU : NB100-2Pk
Natural-Breeze Replacement TRUE HEPA Filter Compatible with HoMedics AF-20FL for HoMedics Air Cleaner AP-25, AR-20, AF-20 TOTAL CLEAN

✔Quantity: 2 Filters
✔Dimensions: approximately 13" x 11.60" x 1"
✔TRUE HEPA particle filter replacement.
✔Removes 99.97% airborne particles, dust, odor, smoke, pet dander, and fabric fibers from the air that passes through the filter.
✔True HEPA, 99.97%, 0.3 micron particle filter replacement.
✔NEW Reinforced design to properly space pleats and allow for maximum air flow.
✔Replacement: HoMedics AF-20, HoMedics AR-20, HoMedics AP-25, HoMedics Total Clean
✔Compatible with: HoMedics AF-20FL.
DISCLAIMER : This is a Replacement True HEPA Filter for Air Purifier sold by NATURAL-BREEZE. This is not an OEM product of the HoMedics brand mentioned. Any mentions or reference to the Brand Name & its filters are to demonstrate compatibility only. Please consult with your Manufacturer's Manual & Warranty prior to purchase and use of our product.

All of our filters are stored in a TEMPERATURE CONTROLLED SMOKE FREE ENVIRONMENT.

If you are not satisfied with the filter, return it within 30 days for a refund of the purchase price, no question asked!