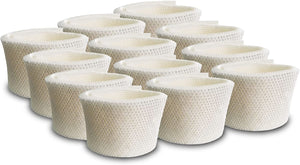 MAF2 Replacement Filter for Emerson MoistAIR Essick Air Humidifiers (NB203P - 12 Pack)
SKU : NB-203-P x 12
Brand new Twelve (12) premium paper filter replacement for almost all humidifiers. Our Humidifier Wick Filter improves the efficiency of your humidifier by trapping mineral deposits from the water. This PREMIUM QUALITY humidifier filter helps control dust and dirt build-up and prevents impurities from spreading by passing air through the filter, also remove household odors. For optimum performance, humidifier filter should be replaced at the beginning of each season and then every 4-6 weeks, depending on usage and hardness of water.
Quality:

 

Made from premium paper to help draw the water quickly and prevent impurities from spreading through the air.
Rigid construction reinforced to improve the structure of the filter once wet.
Quick and easy to replace protect your home air quality by replacing the filter every 2 months, or as needed.
Quantity : 12
Natural-Breeze 203-P Humidifier Filter is Designed to replace Emerson Part # MAF2, Kenmore Part # 15508, and Noma Part #EF2. Also compatible with Emerson MoistAir Model #'s MA0600, MA0601, MA0800, & MA08000 as well as Noma CT0800, CT0800-0, & CT08000 and the following Kenmore model #s 15408, 154080, 17006, 29706, 29880C, 29988, 299880C, 758.15408, 758.15408, 758.17006, 758.29706, 758.29880C, 758.29988, 758.29880C, & 758.29988.
Works with MAF2 Replacement Wick Humidifier Filter for MA0800.
If you need help finding a Natural Breeze replacement filter wick for your humidifier, please
contact us
.
Dimensions: approximately 8.25 inches x 25.50 inches x 1 inch
Disclaimer: This is a Natural-Breeze replacement filter, not an OEM filter. Please check your manufacturer's warranty with regards to the use of non-OEM parts. All mentions of brand names or model descriptions are made strictly to illustrate compatibility.