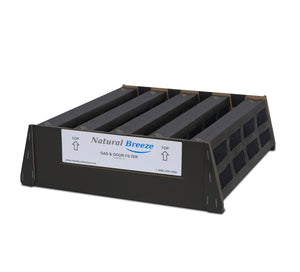 NATURAL BREEZE Filter, Intended as Replacement for IQAir V5-Cell Gas & Odor Control, to fit HealthPro Series
$ 64.99

$ 64.99

Save

$ 25.00
---
---
SKU: NB-125
One New NATURAL BREEZE® Gas & Odor Replacement Filter
Replaces IQAir® V-5 CELL®

Use this activated carbon gas and odor replacement filter to replace your existing filter for the IQAir® HealthPro® Series air purification systems.


-Effectively reduces VOCs (volatile organic compounds) and other harmful chemicals.
-Brand New Individually Sealed
-5 Cell contains powerful granulated activated carbon
-Replaces Part # 102-18-10-00 (V-5 CELL® Gas & Odor Filter)
-Perfect fitment, reliable and easy to install
-5 Cell Filter Dimensions: 13" x 13" x 3.54"
-(Not compatible with HealthPro® Compact model.)
-Replace every 2 years for maximum efficiency, or as needed depending on air quality.
-All of our filters are stored in a TEMPERATURE CONTROLLED SMOKE-FREE ENVIRONMENT.
Important Information
This product is manufactured in China and distributed by NATURAL BREEZE®. It is a third-
party replacement product that is not affiliated with, endorsed by, or produced by IQAir®. It is not covered by any IQAir® warranties, and it may void any existing IQAir® warranties.
IQAir® , PreMax® , HealthPro® , HyperHEPA® , V-5 CELL® are registered trademarks of ICLEEN.

If you are not satisfied with the filter, return it within 30 days for a refund of the purchase price, no question asked!