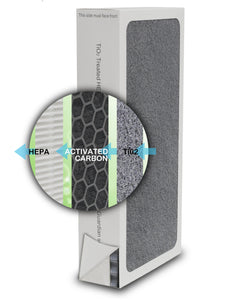 New TRUE HEPA Filter Replacement for TiO2 ELECTROLUX Aerus Guardian Air Purifier
SKU : NB 113

Natural BreezeTM  New Four-Step TRUE HEPA & Activated Carbon Filter
Designed to remove Airborne Particles and Smoke
Model #: NB-113

This double protection filter is the newest design on the market to capture and remove airborne particles, odors, smoke, and VOC's. A four-step filtration process produces fresh clean air in just about any room. TiO2 treated TRUE HEPA Filter with carbon layer purifies indoor air and captures 99.97% of allergens!

-UPGRADE: New Four-Step Filtration designed for ultimate particle gas and odor removal. 
-Air Quality: This newly designed HEPA & Activated Carbon air purifier filter is designed to help capture and filter airborne particles and remove odors. Effectively removes odor-causing VOCs, airborne particles, dust, odor, smoke, pet dander, and fabric fibers from the air that passes through the filter.
-TiO2 Treatment: evenly distributed TiO2 allows for highly efficient removal of gaseous contaminants.
-Installation: Quick and Easy install: each filter is labeled demonstrating the appropriate way to install. Simply remove your standard OEM HEPA filter and replace it with our newly improved Four-Step filter.
-Replacement: HoMedics AF-20, HoMedics AR-20, HoMedics AP-25, HoMedics Total Clean

Compatible with: Electrolux Aerus Lux Guardian Air Purifiers F159B, F159A, 00498
Dimensions: approximately: 20.5" x 10" x 3.75"

All of our filters are stored in a TEMPERATURE CONTROLLED SMOKE-FREE ENVIRONMENT.

If you are not satisfied with the filter, return it within 30 days for a refund of the purchase price, no question asked!