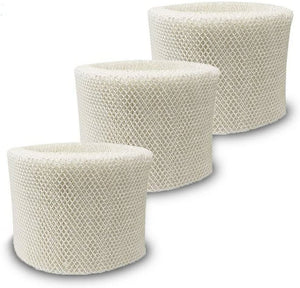 Premium Humidifier Filter Replacement for Honeywell HC-14, HC-14N, HC14V1, HWF75, "E" (NB003P - 3 Pack)
SKU : NB003P - 3 Pack
Natural-Breeze Humidifier Wick Filter improves the efficiency of your humidifier by trapping mineral deposits from the water. This PREMIUM QUALITY humidifier filter helps control dust and dirt build-up and prevents impurities from spreading by passing air through the filter. For optimum performance, the humidifier filter should be replaced at the beginning of each season and then every 4-6 weeks, depending on the usage and hardness of the water.

Replaces: Honeywell HC-14 HC-14N HC14V1 "E Filter",  Holmes HWF75 HF222 "D Filter", Sunbeam SF221 SWF75 "D Filter",  Bionaire BWF75 "D Filter"
Works with Honeywell models:

HCM-6009, HCM-6011i, HCM-6011WW, HCM-6012i, HCM-6013i, HEV-680B, HEV-680W, 

HEV685B
Works with Holmes models:

HM850, HM3300, HM3400, HM3500, HM3501, HM3600, HM3607, HM3608, HM3640, HM3641, HM3650, HM3655, HM7600, HF221, and HSL5000.
Works with Bionaire models:

BCM3656,

 

BCM3855

 

W12, W14, W15
Works with Sunbeam models:

SCM3501 SCM3502 SCM3609 SCM3657 SCM3755
Also works with

 WWHM3300, WWHM3600
Dimensions:

 

approximate Diameter 9-1/2"(outer)/ 7-1/2" (inner) x  7-1/2" H x 1" Thick
If you need help finding a Natural Breeze replacement filter wick for your humidifier, please contact us. 
Disclaimer: This is a Natural-Breeze replacement filter, not an OEM filter. Please check your manufacturer's warranty with regards to the use of non-OEM parts. All mentions of brand names or model descriptions are made strictly to illustrate compatibility.