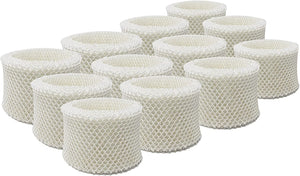 Premium Humidifier Filter Replaces Honeywell HAC-504AW, HAC-504, Protec WF2 (NB002P - 12 Pack)
SKU : NB002P - 12 Pack
Natural-Breeze Humidifier Wick Filter improves the efficiency of your humidifier by trapping mineral deposits from the water. This PREMIUM QUALITY humidifier filter helps control dust and dirt build-up and prevents impurities from spreading by passing air through the filter. For optimum performance, the humidifier filter should be replaced at the beginning of each season and then every 4-6 weeks, depending on the usage and hardness of the water.
Replaces: Honeywell HAC-504AW HAC-504 "A Filter", Protec WF2, HW500
Works with Honeywell models: 

HCM-300 Series:

 

HCM-300T, HCM-305T, HCM-310T, HCM-315T, HCM-350, HCM-350B
HEV-300 Series:

 

HEV-312, HEV-355
HCM-500 Series: HCM-530, HCM-535, HCM-535-20, HCM-540, HCM-550, HCM-550-19, HCM-551, HCM-560
HCM-600 Series: HCM-630, HCM-631, HCM-632, HCM-635, HCM-640BW, HCM-645, HCM-646, HCM-650
HCM-700 Series:

 

HCM-710
HCM-1000 Series:

 

HCM-1000, HCM-1000C, HCM-1010
HCM-2000 Series: HCM-2000C, HCM-2001, HCM-2002, HCM-2020, HCM-2050
Works with Enviracaire model: 
Works with Vicks models:

V3100, V3500, V3600, V3900, VEV320 and V3700
Works with Kaz HealthMist model:

 

3020
Works with Sunbeam models: 
Dimensions:

 

approximate diameter 6-3/4" (outer) / 4-3/4" (inner) x 4-3/4" tall x 1" thick

If you need help finding a Natural Breeze replacement filter wick for your humidifier, please contact us. 
Disclaimer: This is a Natural-Breeze replacement filter, not an OEM filter. Please check your manufacturer's warranty with regard to the use of non-OEM parts. All mentions of brand names or model descriptions are made strictly to illustrate compatibility.