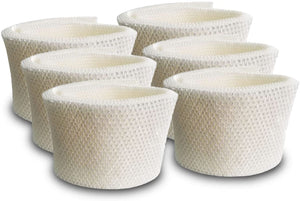 PREMIUM PAPER REPLACEMENT FILTER WICK FOR HUMIDIFIER Compatible with EMERSON MOISTAIR MAF2 , KENMORE Part #15508 , NOMA Part #EF2 - (6 PACK)
SKU : NB-203-P x 6
Brand new SIX (6) premium paper filter replacement for almost all humidifiers. Our Humidifier Wick Filter improves the efficiency of your humidifier by trapping mineral deposits from the water. This PREMIUM QUALITY humidifier filter helps control dust and dirt build-up and prevents impurities from spreading by passing air through the filter, also remove household odors. For optimum performance, humidifier filter should be replaced at the beginning of each season and then every 4-6 weeks, depending on usage and hardness of water.
Quality: Made from premium paper to help draw impurities out of the water quickly to prevent spreading through the evaporated air.
Rigid construction reinforced honeycomb wick pattern to improve the structure of the filter once wet. It is recommended to use distilled water in your Humidifier for less built up of calcification and to support optimum performance.
Quick and easy to replace to continuously protect your home air quality. Recommended to replace the filter every 2 months, or as needed.
Quality Filter that works with your Humidifier to ease discomfort of nasal congestion , relieves dry skin, relieve common symptoms like a dry, itchy throat, and runny nose.
We offer fast & Free Shipping to all 48 Contiguous States of USA.
Measurements : approximately 8.25 inches x 25.50 inches x 1 inch
Quantity : 6 (SIX) Replacement Filter for EMERSON MOISTAIR MAF2 , AIRCARE MAF2 , KENMORE PART #15508 & NOMA PART #EF2 .
Works in these Humidifier :
✔️Emerson MoistAir Humidifier : MA0600, MA0601, MA0800, MA08000
✔️Noma CT0800, CT0800-0, CT08000 
✔️Kenmore model #s 15408, 154080, 17006, 29706, 29880C, 29988, 299880C, 758.15408, 758.15408, 758.17006, 758.29706, 758.29880C, 758.29988, 758.29880C, & 758.29988.
If you need help finding a Natural Breeze replacement filter wick for your humidifier, please contact us.
DISCLAIMER : 
This is a Replacement Filter Wick for Humidifier sold by NATURAL-BREEZE. This is not an OEM product of the EMERSON MOISTAIR KENMORE AIRCARE NOMA brands mentioned. Any mentions or reference to the Brand Names & their filters are to demonstrate compatibility only. Please consult with your Manufacturer's Manual & Warranty prior to purchase and use of our product.