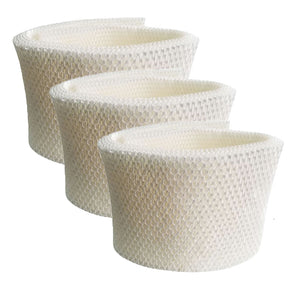 UNIVERSAL Cut-to-Size Humidifier Filter Wick Replaces HM850 WWHM3300 AIRCARE MAF1(NB008- 3 Pack)
SKU : NB008P- 3 Pack
Cut-to-Size to fit almost any humidifier models.

Our premium paper Humidifier Wick Filter improves the efficiency of your humidifier by trapping mineral deposits from the water. This PREMIUM QUALITY humidifier filter helps control dust and dirt build-up and prevents impurities from spreading by passing air through the filter. For optimum performance, humidifier filter should be replaced at the beginning of each season and then every 4-6 weeks, depending on usage and hardness of water.
Quality:

 

Made from premium paper to help draw the water quickly and prevent impurities from spreading through the air.
Rigid construction reinforced to improve the structure of the filter once wet.
Quick and easy to replace protect your home air quality by replacing the filter every 2 months, or as needed.
Compare to Part: Holmes:

 

HM1800

, HM850, 1800, 1840, 1845, 1850, 1851, 1855, 1865, 1888, 1889, 1975, 2059, 2060W, 3400, 3500, 3501, 3600, 3640, 3641, 3650, 3655, 3656, GE: 106663, 106763, Honeywell: HCM1000, 2000, 3000, 5000, 6000 series, 6009, 6011i, 6011ww, 6012i, 6013i White Westinghouse: WWHM1840, 3300, 3600
Dimensions: approximately 31-1/2" x 8" x 1". 
 If you need help finding a Natural Breeze replacement filter wick for your humidifier, please contact us.
Disclaimer: This is a Natural-Breeze replacement filter, not an OEM filter. Please check your manufacturer's warranty with regards to the use of non-OEM parts. All mentions of brand names or model descriptions are made strictly to illustrate compatibility.